The food system - An overview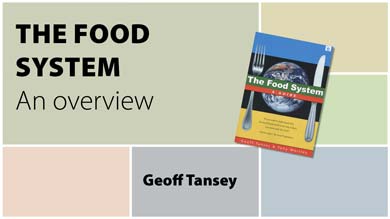 The five main sections of this half hour talk - the first to be developed for the virtual academy on transforming our food systems - cover the basics of the food system, the various actors operating in it, the changing world and key trends, the varying tools for control used, food policy and practice.
"Building upon The Food System: A Guide--which Tansey co-authored with Tony Worsley in 1995--this video provides a succinct overview of food in our world today, critically analysing the dynamics of our global food system and identifying key issues for discussion. The video will be an invaluable tool for educators wishing to prompt reflection and debate among students and to foster the kinds of debate necessary to reshaping the future of food." says Harry G. West, Professor of Anthropology and Chair of the Food Studies Centre,SOAS, University of London.
These issues are covered in more depth in the book, which is still a 'an indispensable reference point for students of food policy", says David Barling, Reader in Food Policy, Centre for Food Policy, City University, London. The running order for the video is given below.
Please respond to a 60 sec survery after watching - Click here to take survey
Running order:
Introduction: 0 - 49 seconds
The basics: 49 sec - 5 minutes 32 sec
Key actors: 5 min 32 sec - 11 min 50 sec
A changing world: 11 min 50 sec - 15 min 55 sec
Tools for control: 15 min 55 sec - 25 min 59 sec
Food policy and practice: 25 min 59 sec - end (31min 38 sec)
This video is a public good, open education resource that is unrestricted in non-commercial use (for commercial purposes or in commercial organisations permission is needed). If in doubt please contact me. Please respond to the survey as this feedback will help in taking this 'virtual academy' work further. Suggestions for further materials to be linked to this page or added to this series are also welcome. If you want to arrange for follow-up discussions with me via the internet – over Skype or some other service - after using the talk in a class, please contact me.
Further reading
There are huge numbers of books and papers about the many aspects of the food system. A few books that give a broad overview of the food system or key aspects of it since publication of The Food System – A Guide, include:
Daniel Charles, Lords of the Harvest – Biotech, Big Money, and the Future of Food, Perseus publishing, Cambridge Mass, 2001.

Jennifer Clapp, Food, Polity Press, Cambridge, 2012

Evan DG Fraser and Andrew Rimas, Empires of Food – Feast, Famine and the Rise and Fall of Civilisations, Random House, London, 2010.

Wenohan Hauter, Foodopoly – The Battle over the Future of Food and Farming in America, The New Press, New York, 2012.

Tim Lang and Michael Heasman, Food Wars – The Global Battle for Amounts, Minds and Markets, Earthscan, London, 2004.

Marion Nestle, Food Politics – How The Food Industry Influences Nutrition And Health, University of California press, 2003, Berkeley and Los Angeles, 2003.
Raj Patel, Stuffed and Stuffed – Markets, Power and the Hidden Battle for the World's Food System, Portobello, London, 2007.
Colin Tudge, So Shall We Reap – What's Gone Wrong with the World's Food – and How To Fix It, Penguin, London, 2003.
One out of print book well worth seeking out is:
Dan Morgan, Merchants of Grain – The Power and Profits of the Five Giant Companies at the Centre of the World's Food Supply, Viking press, New York, 1979.
For a more recent overviews of economic concentration across the food system see the work of the ETC group, notably "Putting the Cartel before the Horse...and Farm, Seeds, Soil and Peasants etc: Who Will Control the Agricultural Inputs? The State of Corporate Concentration, 2013"
Links
There are also huge numbers of website of relevance, here's just a couple to start with.
Food First is the better known name for The Institute for Food and Development Policy based in Oakland, California, USA, which works to end the injustices that cause hunger through research, education and action.
The UK Food Group (
UKFG
) is the leading UK network for non-governmental organisations (NGOs) working on global food and agriculture issues. Its vision is a world in which hunger has been banished by food security.